About Us
Owner, Designer, Maker, Shapeshifter, Cosmically Inspired Designer & Chief Technomancer
∞
I am a multidimensional being, both human & more. I am here to love~to learn  to grow from all that touches me. I express my world and sight through Photography, Leathercraft and Digital Design. I am blessed & I am loved.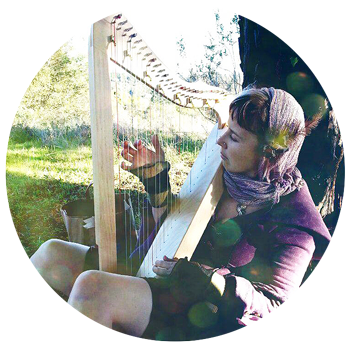 Owner, Designer, Maker, Cosmically Ordained Creatress, Head Muse(!) & Faerie Queen!
~*~
I am LOVE, a Keeper of the Light, Mother, Dancer of Fire Blissings, Truth Seeker, Goddess of Foodgasmic Bliss~ Wild Mushroom Hunter, Herbalist, Healer, & Witch. I am a Creatress, Fae Queen & Muse in service of Divine Flow.
So you are wondering where this all started? Well, it is quite a story and has been a wildly inspired journey with many twists and turns. A journey filled with many incredible blessings and even true love, yes, that is right... true love.

It all started when Aurelius and I met at the Faerieworlds Festival in 2010. By April of 2011, we had opened an Etsy store and begun our fledgling mask making company, known as "Feathery Leathery." Within a few months we had the download that our true business name was, "Astral Chrysalis Designs," but that name felt larger than life, a name we would have to patiently grow into as we grew more skilled at our craft. Energetically it was a name that we recognized as a cosmic container that would demand of us to grow, transform and grow some more as artisans. It has been exactly that- a journey of constant metamorphosis, change, growth, and transformation.

In 2014 Astral Chrysalis Designs became our official business name and Feathery Leathery lives on as a reminder of our humble beginnings. We are excited to be celebrating our 5 year anniversary and we are so grateful to each of you for supporting all our artistic and creative endeavors. Imaginal Wear being the next evolution of our creative expression.

So how did Imaginal Wear come into existence you ask...

Well, it was March 2015 and we were deliriously driving home in the wee hours of morning after vending our leather craft at an event in Southern California. With 8 hours of driving ahead of us, we had ample time to talk and reflect on the many complex realities in our lives. The most important reality being the ability to support our 3 amazing children by living our bliss and making it as full-time working artists! We hadn't made much money at the event we were coming home from, however, we'd made sweet new friends. It was the magic of new friends seeing our leather craft, admiring the artistic detail and hearing about our involved process of creating one of a kind, original, handcrafted pieces of wearable art that led to an incredibly pivotal conversation.

The conversation became a collective exploration of the meaning of the name, Astral Chrysalis Designs. For us it represents the caterpillar who intuitively weaves its cocoon, likely not knowing what transformation is coming. Astral speaks to the plane of existence which emanates the divine energy of the stars. Chrysalis, the pupa of a butterfly, is that space in which profound transformation occurs, until, emergence is beheld and what once was is no longer. Astral Chrysalis Designs is that sacred cosmic space where our creativity transforms and is born anew, ever unfolding, ever growing, ever evolving.

Our new friend Skye Noel was struck by the name and felt inspired to share more about the process of metamorphosis. Skye shared that once the caterpillar has woven its cocoon around itself a rather intense process begins where the imaginal cells begin to multiply, and multiply, and multiply until there is a tipping point. This tipping point occurs when the imaginal cells outnumber the other cells of the caterpillar and this is when things get very intense. Once the imaginal cells have fully replaced all the normal cells, the caterpillar's physical body completely liquefies into a state of new potentiality. The caterpillar then transmutes into its winged self and emerges anew.

I am sure you know what I am talking about, right? You've probably experienced something similar in your own life. It is like those moments when life is rocking you with change after change and you can't seem to stop any of it from happening, but instead find yourself being swept along. As you are swept along you might struggle, as it is hard to experience so much shift change swiftly, but then suddenly you arrive into all the new experiences of your life to fully realize that you are no longer the same person you once were. This is transformation. And it isn't always an easy or pleasant journey, but can often come with a lot of suffering, deep surrender and letting go. Once you've come through that portal of change, usually one realizes the great blessings, lessons learned and new beginnings that transformation was a catalyst to.

As we drove home that night we realized how important it was for us to find new ways of sharing our art in different forms, so it would be more accessible to more people. That was when I (Azalyne) had the brainstorm that we could create a sustainable, eco-friendly clothing company with all the beautiful art we've created since 2011. Skye's description of the role of the imaginal cells in transformation kept echoing in my mind and suddenly I knew what our new clothing business would be called. We would call it Imaginal Wear. As we played with the idea, the phrase "Try on Transformation" seemed potent considering the process that occurs when one enters into that place of serious shift in their world. We also realized that the word "Imaginal" has a magic about it, as it also a play on words to create the phrase "Imagine All." The only constant is change and we can choose to approach change with intention, positivity and heart...imagining all new possibilities.

So with each new inspiration, each new piece of art, we continue to "Imagine ALL possibilities," as we grow to our highest potential as artisans and as we hold strong to the intention of creating a life that we are inspired by...a life we are in love with and a life that creates more beauty in the world. Imaginal Wear is our dream to continue creating a better world for our children where creativity is valued for its contribution to human happiness. All the money we receive via Imaginal Wear goes to support our mother company Astral Chrysalis Designs, as well as to further educate, feed and support our family of 5.

We are committed to producing sustainably crafted, eco-friendly clothing in North America and California. We have a dedicated passion to keep it local and keep creating in ways that harms none, especially this beautiful earth we all call home.

Thank you for reading! Please feel free to contact us with any questions you might have! The contact form on the page will go directly to us, and we will respond promptly.

In Gratitude, Azalyne & Aurelius

(and our 3 sweet boys Julian, Tryndl & Elyas)